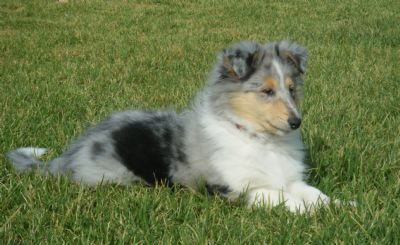 Welcome to the home of
Ellerran Collies
Est 1995
Ellerran Collies can be found in the riverside town of Deniliquin, NSW. Our dogs enjoy the lifestyle of the rich and famous, greeting guests to our motel daily. Originally establish in the Northern Territory in 1995. Our first collie was a 14 month old Blue Merle bitch, Aust Ch Dargrevic Blue Bettina. Tina was to be the beginning of everything. She had a few challenge points when we purchased her, with the question from Annette her breeder, the road to showing collies had begun. Tina had fantastic rear angulation and could out move both me and my husband! Showing was not her preferred occupation, lounge lizard would be a better description. Her preference not to be in the show ring was accepted, only taking her in for Royals and other special shows after she was titled. This was when she decided to shine, including multiple Runner up in Group and Class in Show awards. Whilst in the NT we titled 5 Australian Champions, receiving numerous Class in Group, Class in Show and Runner Up in Group awards, under both Australian and International judges. We moved south to Victoria in 2005, bringing only our retired oldies.
2008 was the end of the first stage of our kennel, the beginning of the new and a move to NSW. A new start begun with the purchase of Oscar, Aust Ch Kollylock High Distinction. Oscar is a natural show pony. He absolutely loves the show ring and the show atmosphere. A constant Class in Show winner from his first show, testament to his winning attitude. Oscar achieved the ultimate goal in 2011, going BEST EXHIBIT IN SHOW! Such a fantastic follow up to finishing his Australian Champion title at the previous show.
The move to Deniliquin in 2011 has enabled our small team to enjoy some regional and metropolitan shows with fantastic results. 2012 saw the birth of the first Ellerran pups in NSW. Abby, Kollylock In My Blue Knickers, whelped us 4 lovley babies. Our shining star from this litter is, Dual Champion (T) Ellerran Rioja Blue Distinctn . Rioja is having fantastic results in both the Confirmation and Dog Sports arenas. Keep watch for some of his results.
Champion Ellerran Azure High Lights, Teddy, came along in May 2013. What an amazing young man. We have been waiting to find "the blue boy" for 15 years! Now we have him. Teddy is an accumulation of best plans coming together. Teddy is an outgoing easy to live with young man that has all we could have planned for in temperament, conformation and genetic health. Together with his sister Storm, Champion Ellerran Patri At My Place, we continue our plans to breed healthy and happy collies.
Enjoy our website.
Pups are sometimes available, enquiries welcome. But please remember, every baby is precious. They received the best care available and the constant company whilst they grow up.
Contact Details
Shannon Vickery
Deniliquin, NSW, Australia
Phone : Mobile 0407 615 988
Email :
[email protected]
87317 Visitors